Runner's World says "Handful's The Closer Bra Is Better Than the Sports Bra You're Wearing Now"
on March 06, 2019
Runner's World put our newest bra, The Closer, to the test and says "you deserve this luxuriously soft, thoughtfully designed, front-zip sports bra."
All images by Trevor Raab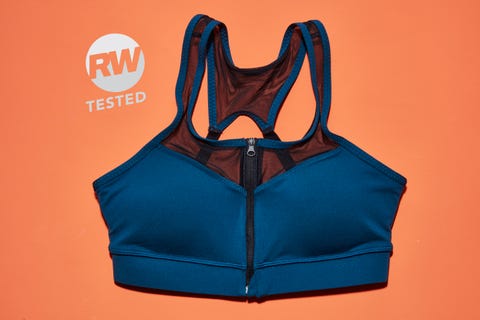 Price: $58
The right bra for: All cup sizes, but ideally C and D; women with back and neck issues
Up until about a year ago, I had been wearing the wrong size bra. It was only when I casually walked into a Victoria's Secret one afternoon and suddenly found an eager sales girl wrapping a tape measure around my bust did I learn I am a 32DD, not the 36c I'd been unattractively spilling out of all those years. I'd also, until recently, been lazy about searching for the right sports bra. The last one I bought cost $14.99 and had about as much support as my first training bra.
This is not how you should treat yourself. You—and your breasts—deserve better. Handful's The Closer bra is better. It has a luxuriously soft lining and enough stretch to let you move freely without sacrificing support. The flexible mesh on the upper and back is super-breathable—with a hint of sexy. And the easy-on/easy-off front-zip design has benefits that go beyond not having to wrestle the bra overhead just in time for a gaggle of girls to walk into the locker room. It's also said to be a better solution for breast cancer survivors and women who have shoulder, back, or neck problems.
Removable pads let you choose how modest or voluptuous you want to feel on a given day, and are conveniently labeled left and right (and which end is up), so you don't drive yourself batty trying to remember how to put them back in if you do remove them. If you're a breast cancer survivor who has lost all or part of a breast or breasts, Handful includes free pad sets to fill the void—and offers a lifetime 30 percent discount on all Handful bras and activewear through its online Breast Friends Forever program.
The Closer's Closure—and Its Two-Hand Secret
Just as reaching behind your back to clasp a bra can be somewhat challenging, so too can the simultaneous process of pulling both sides of a front-zip sports bra together while squeezing your breasts while aligning the zipper just right so you can pull it up before that gaggle gets a free show. The single, centered hook on The Closer lets you secure everything first, and zipper second. I admit, I had a bit of trouble separating the zipper pull at the base of the bra, until I learned the two-hand secret. According to the bra's designer, The Closer's zipper has an amazing responsibility, so it has to be very strong to ensure it stays zipped—namely, the zipper stop has to work in unison with the elastic band at the bottom. The best way to unzip it is to pull the zipper down with your left hand while holding the other side with your right. When you get to the end, give it a good, straight-down yank. Reverse the process when zipping in the opposite direction. You'll quickly get the hang of it.
More Than a Handful of Things to Love
The first thing I noticed when I slipped into this bra is the incredibly cozy lining. I also love how the unique mesh back panel sits neatly between my shoulder blades and prevents the straps from sliding down. I can't speak for this bra's moisture-wicking ability in super-hot temps, as my test runs happened mostly on overcast, 40-degree days, but I can attest to its stellar support and flexibility—I ran with the pads both in and out and felt fully supported every time. And once I mastered the zipper, closing The Closer became second-nature. If you're overdue to treat yourself better, this attractive sports bra from Handful—available in five sizes and three colors—will make you feel pretty special.